Michelle Nguyen & Nicole Nguyen: The Next Generation of Wedding Pros
Written by: Elisa Yu-Shan Lion
Edited by: Glenda Winters
Photo shoots are mock up events of elaborate parties and weddings. When done well, photo shoots can offer truly amazing opportunities for wedding pros (professionals) to increase their expertise and skills. Opportunities such as: create and test new room and dining designs, collaborate with new wedding pros, imagine and test new procedures and protocols, produce new marketing material and continue to learn and grow in the wedding industry. A general "dry run" so to speak, to ensure that they each deliver flawless service and experiences to engaged couples on that very special day: the wedding day!
Recently, as in many industries, COVID-19's business lockdown has limited our ability to hold these photo shoots because they are, by their very nature, full of close contact between professionals from various specialties. So we were very purposeful about this photo shoot, testing not only how to solve all the "usual" logistics and challenges through practice, but also how we can ensure a worry-free setting applying smart and effective COVID-19 protocols as well. The added protocols were both behind the scenes as well as during the event portion of the photo shoot. Beforehand, we identified our usual goals: get the creative juices flowing, working  in-person with our team and part of our wedding pros' core team on site, get into the mindset of exceptional service delivery and experience once again a full set up and service "dry run".  In addition, this time our photo shoot goals included: working with face masks in 95+ degree weather and testing our COVID-19 protocols and procedures with our own staff as well as venue staff and wedding pros from other partner companies.
In preparation for our August weddings – both mentally and physically – we were able to work with one of our client couples, Lauren and Nick, while 2941 Restaurant's Director of Wedding and Private Events, Michelle Marquez, oversaw our photo shoot. (Note: While we have been working with Lauren and Nick for the past 10 months – their original wedding date was April 25, 2020 -due to COVID-19, they have chosen to reschedule their wedding. Currently, we are looking forward to their wedding in the Spring of 2021.) It is always a delight to work with diverse and fascinating couples; their history and traditions are so much fun to incorporate into their special day and events!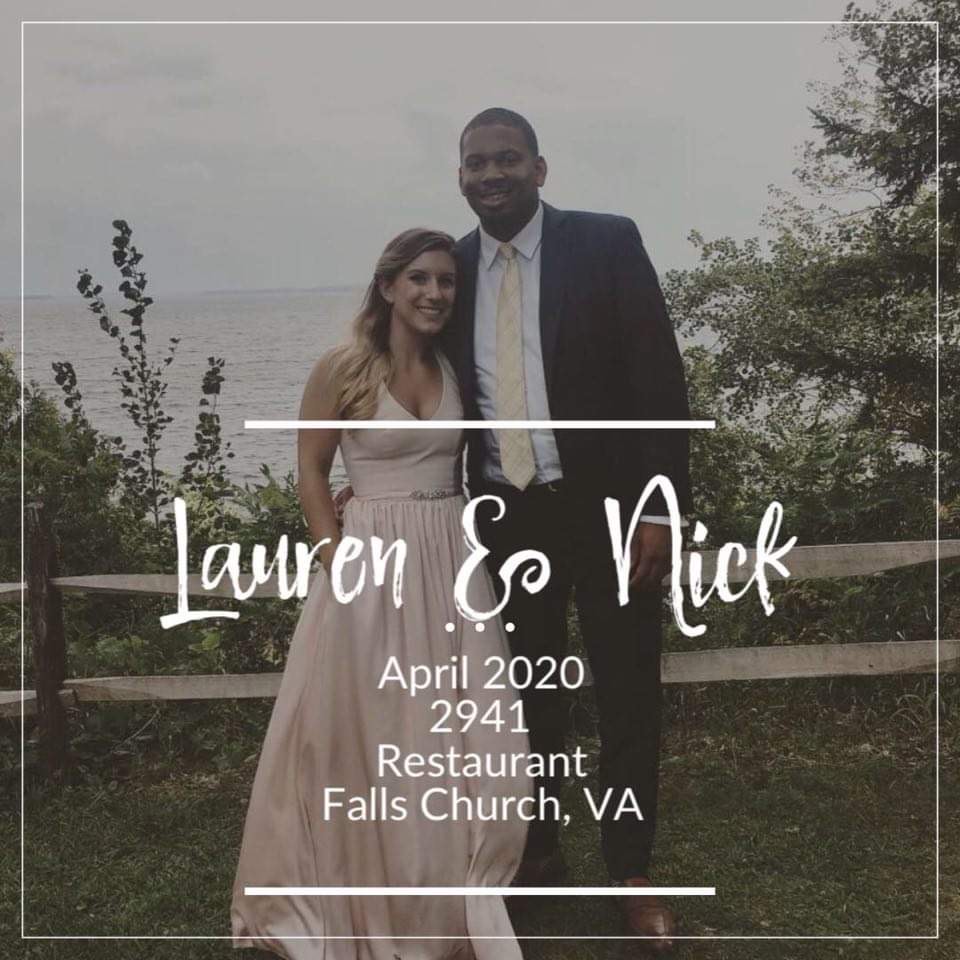 2941 Restaurant (www.2941.com ) is our home venue and is one of the most celebrated restaurants in the Washington DC metropolitan area, nestled in the heart of Falls Church, VA and surrounded by lush landscaping, koi ponds, waterfalls, world-class artwork, and a lakeside view.
When preparing for a photo shoot, generally we find a partner bridal boutique store to provide a gown just for the day. However, with COVID-19 limitations on many businesses, this approach would not be viable for this photo shoot, especially since we had a 10 day timeline in which to pull together all the wedding pros and complete the shoot. For anyone who has participated in a bridal photo shoot, you know that is an incredibly short timeline!
Michelle Nguyen came to mind as an alternative. Michelle is the oldest daughter of My Pham and Johnny Nguyen, who own and operateMy's Bridalterations(www.mysbridalt.com). My is known in the wedding industry for her talent as a custom fashion designer and skills as senior tailor and seamstress, but above all else, for her exceptional, caring customer service.
I have watched over time as Michelle's interest and skill in bridal wear developed, learning from both her father and mother. She accompanies her dad to Bridal Showcases and Open Houses while her mom and siblings tend to their clients.
I have to pause here and give the whole family a big, grateful shout out. During this pandemic crisis, the entire family (they have four children: Michelle, Nicole, Julie and Brandon) has been supporting their community and beyond by cutting, sewing and donating over 5,000 face masks to hospitals locally, statewide and nationally. Also during this time, Michelle was inspired to open her first on-line store where she currently sells all her face masks. (https://www.michelles.shop/)
While both Michelle and Nicole stepped up to the tasks surrounding this photo shoot, and I see great things in their future as inspired artists, it is Michelle's journey I am delighted to share with you in this article. You will see glimpses into Nicole's journey throughout my telling of Michelle's journey.
MICHELLE NGUYEN – A Rising Fashion Designer
Michelle has always reached for the stars, ever since she was a little girl. At 16, she is the definition of excellence, hard work and dedication: she has been an honor roll student since primary school, a member of both National Honor Societies (Elementary & Junior), has a 4.1 GPA, and is currently enrolled in the Center for Fine & Performing Arts (CFPA) Specialty Program at Colgan High School. Michelle has had the honor of having her artwork displayed during various years at exhibits in the PWCS Annual All-County Arts Festival, Hylton Performing Arts Center, and the Kelly Leadership Center.
Michelle became curious and interested in artistic expression around the time she was trying to discover what mediums she could use to apply her artistic creations and shape her future career. By the time I contacted Michelle, she had extensive exposure to sewing and that "side" of fashion thanks to her mom and the family business.
The hardest part of the challenge for her was knowing where to begin, and then keeping up the momentum. She had the ideas, the criteria, the outlines—yet found it challenging to translate the design from paper to fabric. On paper you can draw absolutely anything your mind dreams up and it'll look beautiful, but on fabric is where it comes to life, miscalculations and all. She shared with me how she struggled to overcome her limited experience and stay productive, and, like similar experiences with her art in the past, she had to find a way to keep herself motivated despite how discouraged she would feel at times. At the end of the project, her initial design had changed and evolved around five times.
In 5-10 years, Michelle sees herself having her own art studio with a respectable brand name to be proud of. She sees herself producing both traditional and digital works, on every kind of medium–the Web, walls, and wardrobes! She hopes to collaborate with diverse friends to build a team that strives to spread the beauty of art everywhere and in various industries whether that's interior design, fashion design, architecture, culinary arts—Michelle plans to work with all types of people!
Michelle's favorite part of this real-world challenge was seeing the dress on the bride the day of the shoot. Even though she was quite anxious – she shared with me she felt her heart was pounding a mile a minute – she conducted herself as a seasoned professional throughout the process. Seeing the dress on Lauren (our bride/client) for the first time was worth it! Michelle said she thought she might cry seeing her work come to life – going from sketch, to fabric, to a mannequin, then onto a person who was going to remember this for the rest of their lives—it was the most amazing feeling!
Michelle shared she learned a lot in the technical sense: she now knows what she could have done better in the design, what to expect during a shoot, what it's like working at in a fast paced environment, and working with experienced professionals. She summarized the experience as both terrifying and exhilarating. The biggest thing she learned a lot about herself was that making something beautiful begins by believing that you are capable of making something beautiful.
But I'm getting ahead of myself! Here is a behind-the-scenes telling of Michelle's journey with me to make my photo shoot a huge success……..
And so it began……
THE CHALLENGE
Prior to approaching Michelle, I first spoke with her father, Johnny, due to Michelle's age. He loved the idea of Michelle's involvement and supported my decision to treat Michelle as a fellow wedding pro (i.e., adult). At our first call, Michelle also agreed it was a wonderful opportunity that she would be honored to participate in.
As new wedding industry norms are including more "mini-monies" (mini ceremonies), and elopements, Michelle Marquez, at 2941 Restaurant, requested we set up a small-style shoot to promote their new elopement packages. I had ten days to coordinate everything, so I gave Michelle the same timeline to sketch and finalize a design and make a dress for one of our brides, whom she would not meet until the day of the shoot. Michelle was thrown another curve ball; she would have to make a dress using only Lauren's measurements from six months ago, knowing that Lauren had a baby late 2019.
Historically, when I design an event, I include all the elements in a mood board –including a color palette, floral inspirations, accessories, details, etc. However, for this shoot, we were designing everything in reverse, focusing on the dress and arches included in the 2941's elopement packages first. We would not highlight accessories and chose instead to focus on the dress. This decision placed a lot of pressure on Michelle; not only was she sketching and designing her first wedding /elopement dress, she was creating it without fitting it on the bride prior to the shoot and the other elements of the shoot were dependent on the final design of the dress. She was being asked to make a summer elopement, Bohemian-style dress which could be easily used for a rustic backdrop and/or a tropical backdrop, without the benefit of fitting the bride prior to the day of the shoot!
This assignment was practically designed to throw Michelle curve balls at every opportunity, but she rose to the occasion each time and hit a home run! I demanded perfection, gave her an incredibly short timeline and had her do it at our home venue under the supervision of our venue Director overseeing everything. She took the initiative to contact the bride and share her initial sketches which took into consideration the bride's body type. After they spoke, Michelle, most importantly, took the bride's personal feedback into consideration and applied it to the final wedding/elopement gown.
(Remember, to add to the challenge, Michelle's father requested that Michelle be tasked to do this assignment on her own, allowing assistance from her parents only as her consultants, but nothing more.)
During this time, I also learned that Nicole, My's and Johnny's second daughter was passionate about storytelling and film making. It occurred to me that Nicole could also bring her unique talents and passions to our photo shoot and add to our final product (the pictures/video) – her first professional assignment! Here is a little about Nicole and what lies ahead for her, from conversations I had with her.
NICOLE NGUYEN – The Future in Storytelling
Nicole is a hardworking, disciplined goal oriented young lady with a creative mind. While being just 15 years old, she conducts herself and with the same professionalism that characterizes her sister, Michelle. Nicole is a straight A student, attends Osbourn Park High School's Pre-Governor's Specialty Program, and is the former freshman class president. Her hard work and dedication have won her numerous principals' awards. Nicole became interested in the film industry at a young age following her passion for storytelling and the desire to share her experiences.
Nicole envisions forming and growing an amazing production crew with whom she will travel around the world and who will partner with her in creating and capturing stories to share with the world. I can hardly wait to see how Nicole's journey unfolds!
Her experience with our photo shoot was wonderful, shadowing and learning from our professional partners throughout the session. Initially I asked her to follow Michelle's process and present it as a documentary and it was a great presentation when completed! She also enjoyed applying the techniques from our experts during the photo shoot, growing and learning right before my eyes! Our beloved and talented partners – Sanaz Fahimi from Butterfly Photography (http://www.butterflyphotographycenter.com/) and Desmond and Vera Denton from Fine Art Wedding Film (https://fineartweddingfilm.com/) took Nicole under their wings. They took the time to meet her, get her familiarized with the equipment, provided her with tips, mentored, guided and encouraged her by having her shoot photos and video while they provided honest and insightful feedback.
The Dress – Behind the Scenes – The Process
Here is a sneak peak into how the dress went from a vision, to a sketch, to a fabric pattern to a sensual off the shoulders summer bohemian dress. From an interview with Michelle Nguyen.
Designing the elopement dress for this shoot took a lot of research, consideration, and educated guesswork. There were a lot of variables and limitations that needed to be considered: a very tight deadline (10 days), the measurements were on paper only (Lauren couldn't meet until the day of the shoot), and the fabric had to be procured (how to find enough suitable fabric on such short notice).
To fit the concept of sensual bohemian, Michelle chose to focus on three important elements: functionality, mobility, and elegance. It wasn't a traditional wedding dress, it was simpler with fewer layers and embellishments. Michelle needed Lauren to feel comfortable, but also beautiful and elegant—in the end, it was still going to be a wedding celebration after all!
I provided Michelle with limited guidance, using the assignment to push her to excel in her art and pushing her a little beyond her performance comfort zone. I did share the following: the dress must be off-the shoulder with a small train based off what Lauren had expressed as her preference. This was Michelle's only starting point for the design. Many of our current small events at 2941 Restaurant are now taking place within 5-10 days from booking the venue. It takes well-experienced and seasoned event pros to successfully execute an event with such short notice regardless of the event type and size.
Research. Before Michelle even started designing, she spent 2-3 days pulling up endless references that fit under the concept of bohemian, what Lauren liked, as well as the venue and the elements that would be complimenting her look: the flowers, the hairstyle, the accessories, the different props and setup. I knew the dress had to be universally designed so it could be beautifully accented by almost any type of theme.
Michelle's research was thorough and extensive, communicating with me in real-time. She was very organized with her thoughts and intentional with her questions. It was clear she was fully engaged and her heart and mind were wholeheartedly invested in this assignment. She considered design elements for different settings like snowy mountains to romantic beach weddings. Through the brainstorming process, Michelle spent hours scouring the Internet for anything and everything BOHO related. Her inspirations included and were not limited to themed objects like dreamcatchers, flora, and furniture— looking at textures, atmospheres, and even symbolic meanings behind why something was considered bohemian. She constantly consulted with her mom, whether that was on the way to the grocery store or during lunch in her storefront.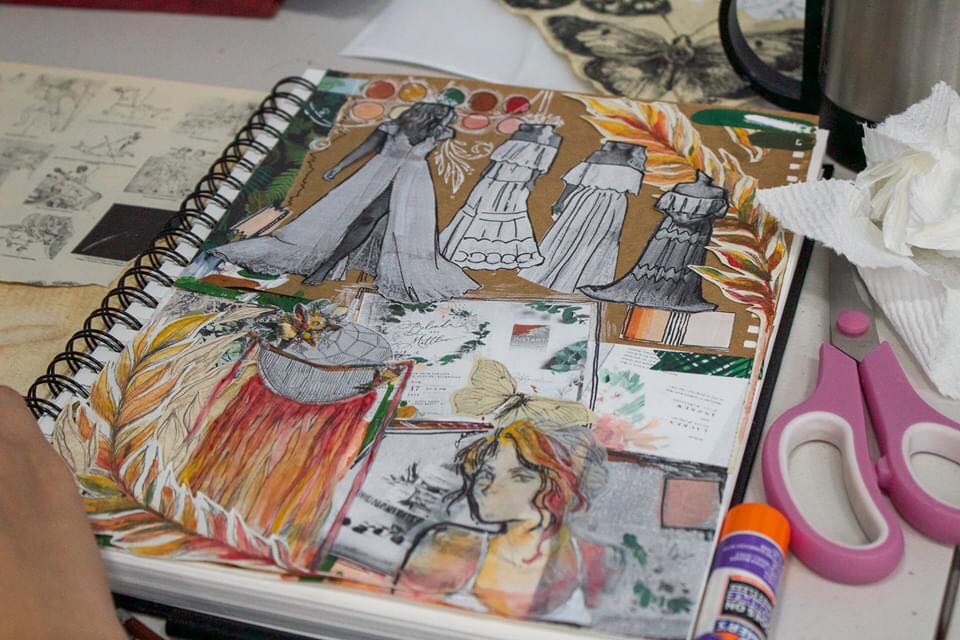 Sketching. This was the really fun part for Michelle as she is most familiar with and knows sketching thoroughly. She had pre-sketched models called "croquis"; she studied and drew these many months before now, and printed several of these templates to use. She made a mood board to start, several printed references, and her computer was glued to her side with a folder with all her inspirations. Her ideas flowed and she just started sketching whatever came to mind; nothing clean, nothing perfect, but on paper/computer as soon as they occurred to her. This was an exercise to simply start conceptualizing her vision. She tried different necklines, trims, laces, different skirt lengths and styles. This part of the process was raw and messy. Michelle strives for perfection; she stayed up all night some nights trying to get it right! She constantly had to go back to the drawing board as different obstacles in the process came up (remember those curveballs? They didn't stop!).
Despite all those free-flowing ideas, she had to narrow her designs down and ensure the final few fit our criteria. This was extremely challenging. She had been able to meet our bride and that was incredibly helpful and a crucial requirement since "A wedding dress is both intimate and personal for a woman – it must reflect the personality and style of the bride." (Carolina Herrera – famous fashion designer). Michelle had only seen two photos of Lauren and had been given 3 measurements. Aside from missing other measurements, the measurements were also 6 months old. Michelle needed to take into consideration how could her body have changed since then.
Michelle drew over 60 croquis for this dress and narrowed it down to two. A "button down" off-the-shoulder summer bohemian dress with pockets. It had a train that she thought would flow beautifully with the open slit in the front, and that she hoped would help her walk with the fabric out of the way, just in case the dress was too long (there was no confirmation on how high of a heel she had selected). The A-line skirt would accentuate the waist and an off the shoulder fringe would be made with elastic to ensure that it wouldn't slip down and Lauren would still be comfortable. And my favorite part (along with Michelle's)? The pockets. Functionality has always been a standard Michelle wanted to make a consistent norm in as many future designs as possible, why not start here?! Michelle calls them her "pockets full of posies" because they were lined in floral lace trims.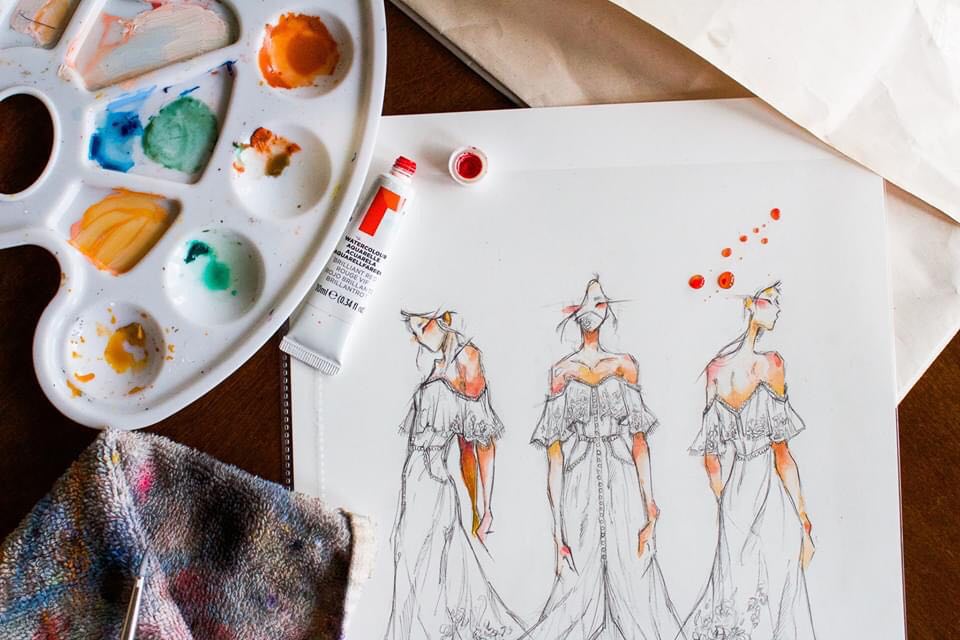 Fabric. This part was tough. There was no way Michelle could order high quality fabric in 10 days with the current pandemic lockdown, so she improvised and worked with what they had. They scoured fabric stores (limited supplies) and they dragged out all the boxes of fabric they stored in their inventory.
They looked for something flowy, light weight, a bit durable, and quick to dry (if possible). Despite knowing this dress was going to be used for a staged shoot at a venue, Michelle made this dress thinking "What if this was a wedding and not a photo shoot?" It could be dry, windy, muddy, wet – this dress needed to be like bridal armor, but stylish bridal armor.
She selected chiffon, soft Chantilly floral lace, and a stretchy jersey lining to make sure that Lauren would be comfortable in.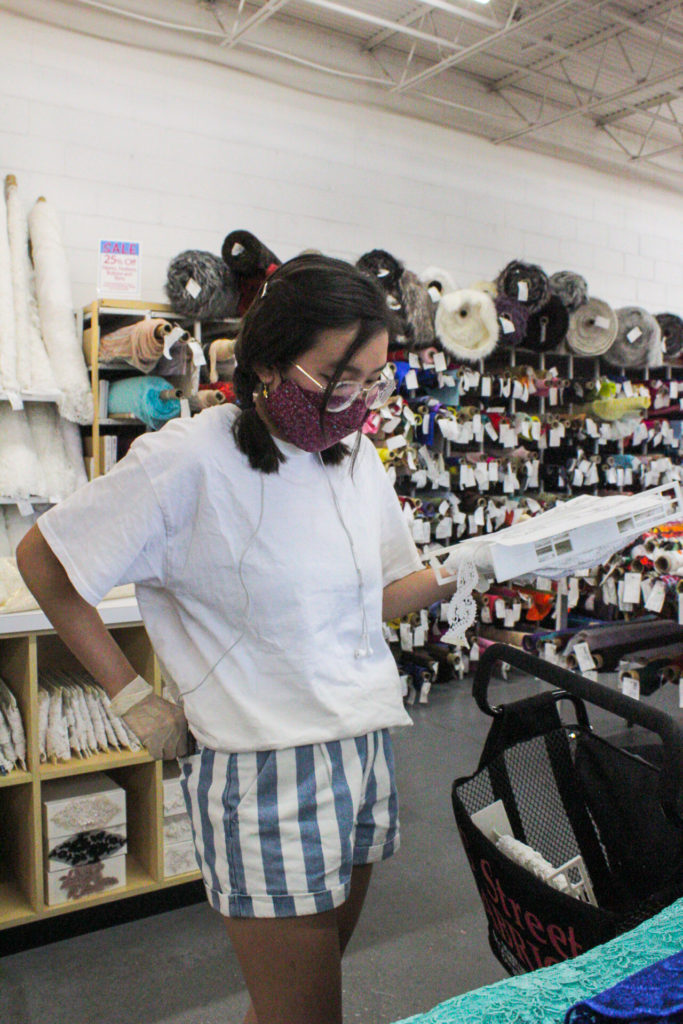 Michelle and her mom, My, started draping. Road bump #1? There wasn't enough of it. This is where the tweaking started. Usually fabric should be decided on way before the sketching even starts to give you a better concept of what you're working with and how your dress would look realistically. Unfortunately, they didn't have that much time; they had to work with what they had on hand. So, they would start draping the design, tweak the design when the fabric fell short and begin draping again. It was by no means as efficient of a process as it could have been, but they got the job done beautifully.
2 days before the shoot. Patterns, Sewing, The Magic Happens.
Michelle's mom's 18+ years of experience with sewing and working with brides was welcomed, and indispensable at this stage. Michelle has experience sewing and designing. She recently opened a face mask online store and creates most of the product herself. However, a wedding dress is a whole different ball game! My helped Michelle understand measurements, pattern-making, how the paper would translate to the mannequin, and what measurements they would have to estimate. She helped add the extra fabric to the waist to make up for the possible changes Lauren's figure may have undergone in recent months. My was strict (she wouldn't do it for Michelle!) yet inspiring, encouraging and above all loving and patient throughout the process. She showed Michelle new sewing techniques to sew different types of fabric together, and when Michelle was busy balancing between late night schoolwork and their mask sales, My would stay up with Michelle, thoroughly checking all of Michelle's work.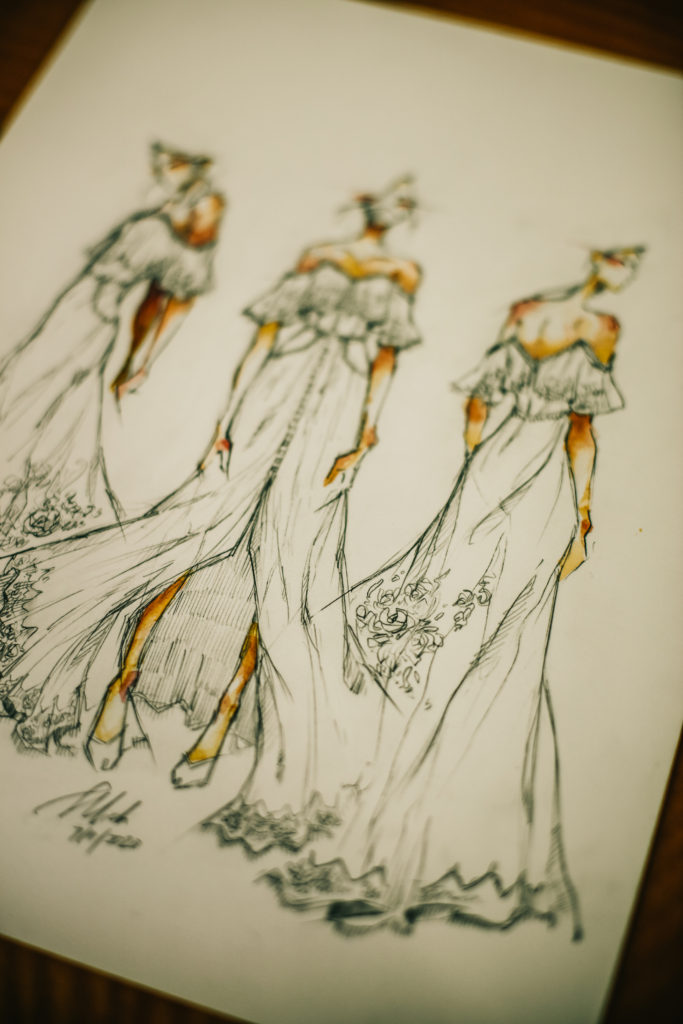 The Mask
It's the day of the shoot, and everyone is busy. All hands-on deck – final check and revision to the dress by My, Nicole is checking cameras and equipment, her grandmother is helping finish up masks for the wedding pros team, and Michelle is embellishing the matching mask to go with the dress.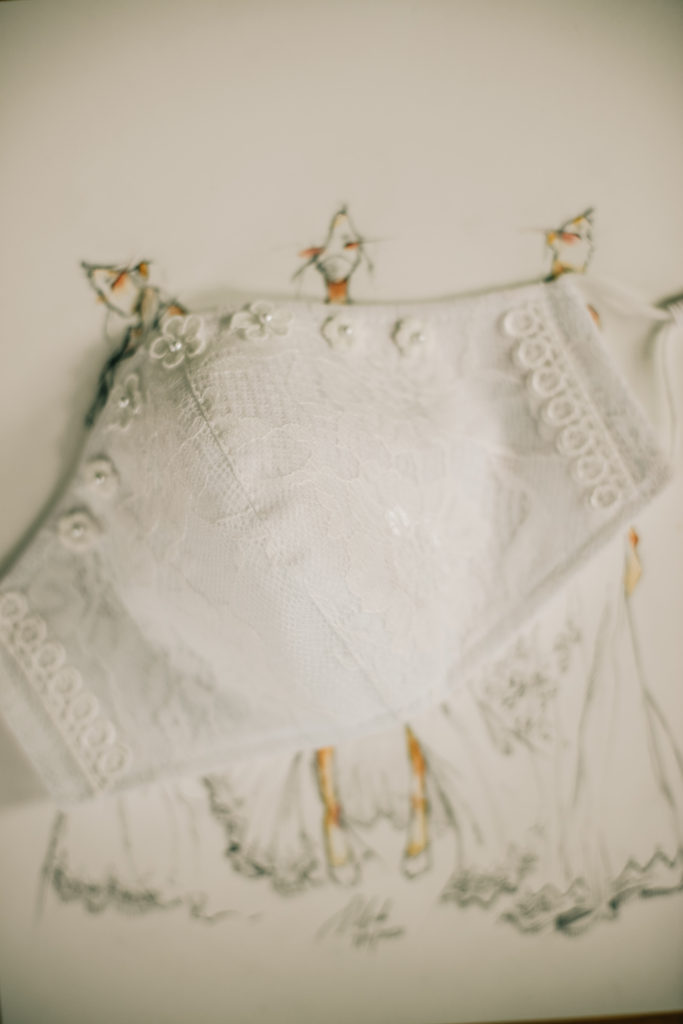 It was simple, yet dainty and Michelle loved it. It had matching lace and trims to compliment the dress. The best part is it had exactly 7 pearled-studded daisies lining the top. There is a hidden symbolic meaning in every piece Michelle does, no matter if that is a written composition, artwork, or, in this case, a dress design. Michelle thought of the saying "Something Old, Something New, Something Borrowed, Something Blue."
It's a tradition meant to stand for and give the bride continuity, optimism, happiness, love, purity, and fidelity. Daisies are said to symbolize love, innocence, purity, motherhood, new beginnings, and good luck. So while Michelle couldn't give Lauren something old, borrowed or blue, Michelle hoped the daisies would give her a bit of good luck on her real wedding day and all the best wishes for her family.
The dress was completed just 2 hours before the shoot. A far cry from the preferred timeline, but a beautiful gown Michelle can be forever proud she created on time and with a perfect fit. Below are a few photos of her bohemian elopement/wedding gown.
My Reflections
THE NEXT GENERATION
I have been planning events for over 20+ years; I am passionate about bringing others' celebration visions to life! My event planning experience includes nonprofit, corporate and social events prior to planning private weddings and other special occasion events. My passion for event planning and design grew out of my love for big family gatherings and the countless times I organized family celebrations in Honduras during my youth.
My mother was always my biggest supporter and my most honest critic and she ultimately encouraged me to spread my wings and follow my dreams. My experience and passion led me to take a "leap of faith" and launch a full-time career doing what I love the most.
During my launching stage a handful of seasoned wedding pros generously gave me a helping hand. The one who has walked with me he longest is my Godfather – Sammy Pineda of Sammy's Rental (http://www.sammysrental.com ). In honor of my Godfather and all those who have believed in me and helped me, I welcome this opportunity to "pay it forward" in their names and highlight these bright, brilliant and beautiful artists and their talents.
It was truly an honor to watch this talented and inspirational sister duo rise to the occasion! They handled the pressure and welcomed honest and direct feedback with professionalism. My team and those of my fellow professionals are eager to watch, follow and support Michelle and Nicole's careers and professional growth in the coming years!
Collaborating Wedding Professionals:
Cake provided by: 2941 Restaurant – www.2941.com
Event "Day of Coordination" provided by: All For You Events & Designs – https://www.allforyoued.com/
Event Planning & Designing provided by: Exceptional Events by Elisa – https://exceptionaleventsbyelisa.com/
Florals (bohemian design) provided by: I Do Weddings with Love – https://www.idoweddingswithlove.com/
Florals (rustic design) provided by: Twinbrook Floral Design https://twinbrookfloraldesign.com/ and https://www.twinbrookfloraldesignweddings.com/
Florals (tropical design) provided by: Karin's Florist – https://www.karinsflorist.com/ and http://www.eventsbykarins.com/
Hairstyling services provided by: GlamFace by Khatera – https://www.glamfacemakeup.com/
Makeup provided by: GlamFace by Khatera – https://www.glamfacemakeup.com/
Officiant services provided by: Rev. Jamie Dee Schiffer – https://www.a-passionate-life.com/
Photography provided by: Butterfly Photography http://www.butterflyphotographycenter.com/
Rentals provided by: All For You Events & Designs – https://www.allforyoued.com/
Rentals provided by: I Do Weddings with Love – https://www.idoweddingswithlove.com/
Rentals provided by: Sammy's Rental – http://www.sammysrental.com/
Stationery provided by: Via Paper Boutique – https://www.viapaperboutique.com/
Venue provided by: 2941 Restaurant – www.2941.com
Video provided by: Fine Art Wedding Film – https://fineartweddingfilm.com/